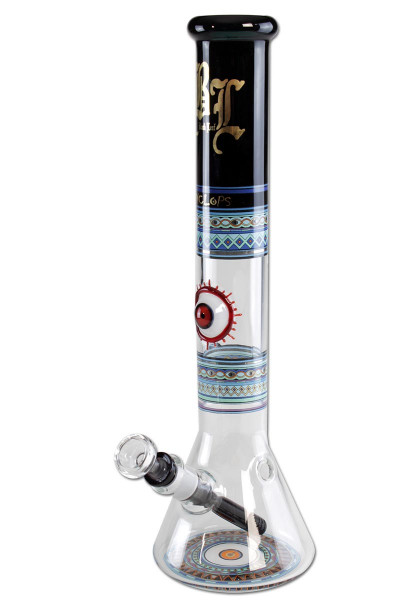 'Black Leaf' 'Psyclops' Flask Bong
Material:
Borosilicate Glass
Color:
clear/black/multi-coloured
Print:
BL Logo
Height:
400mm
Diameter:
120/50mm
Grind:
SG 19bistable/14 (18,8mm/14,5mm)
Wall Thickness:
5mm
Percolator:
no
ICE:
no
Kickhole:
yes
Oil:
no
Info:
Diffuser Slit Adapter L 130mm
€ 129.95
Beschrijving
De glazen waterpijp 'Psyclops' van 'Black Leaf' houdt je in de gaten en fascineert zowel met zijn opvallende als artistieke ontwerp van Sly. De waterpijp is deels handgemaakt van het beste zwarte glas, zeer stevig en heeft een gleuf diffuser-plugsysteem. De kom voor droge kruiden heeft een grote capaciteit en het mondstuk is comfortabel afgerond. Met een schietgat!
The 'Psyclops' glass bong from 'Black Leaf' is watching you and fascinates with its eye-catching as well as artistic design by Sly. The water pipe is partly handmade from the finest black glass, very sturdy and has a slot diffuser plug system.
The bowl for dry herbs has a large capacity and the mouthpiece is comfortably rounded. With kickhole!